About Us: Our Approach

About Us: At Crevier Jewelry, we know jewelry. We live and breathe jewelry. We are not just a sales person behind the counter trying to sell you something… We have made a profession out of making it from scratch and by hand. And yes, we will give you a warranty, but our goal is that you don't have to come back and get a piece repaired. We don't just make pieces that should only be worn on the weekend and special occasions. We want you to have something that will last a lifetime and be able to withstand the bangs and abuse of daily life.
I have filled him with the Spirit of God, in wisdom, in understanding, in knowledge, and in all manner of workmanship, to design artistic works, to work in gold, in silver, in bronze in cutting jewels for setting, in carving wood.
– Exodus 31:3-5
About Us: How It All Began

Jacob's Story
Jacob Crevier grew up always working with his hands. When he wasn't doing school, he was in the garage making something. When he was 17 years old, he went on a mission's trip to Mexico. While there, he saw a man cutting names into silver rings with a saw.
The process intrigued him, so instead of buying a ring from him, he bought his saw (which is still used at Crevier Jewelry to this day). When he got back to the states, he purchased some silver spoons and began making jewelry on his own. He started getting orders from people wanting his work and realized that he had a passion for the art. He apprenticed at a local, jewelry design and repair shop and was a bench jeweler there for almost 5 years. He left with a knowledge of goldsmithing.
Slowly, over the next 6 years, He honed his casting, stone setting, hand engraving, CAD and jewelry design skills. Jacob started Crevier Jewelry LLC in 2012 and has never looked back.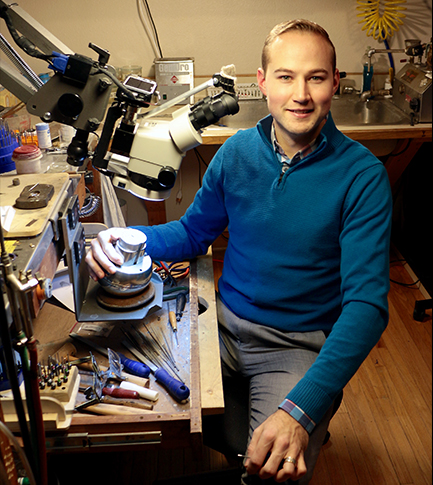 We can help you with any project
CONTACT US TODAY!